Child's Disinterest in Learning To Read
Are you troubled by your child's disinterest in learning to read? It seems that everyone from a child's teacher to Mom and Dad and even Grandma is excited and waiting for the child to learn to read. All the pressure and expectations from the adults can sure put a damper on the excitement for the child. This loss of excitement can lead to a child who loses the interest to learning to read.
You try to encourage them the learning to read by reading together. However, each reading session is a struggle. Your child shuns it like a hated vegetable . Or maybe your child can already read, but just doesn't want to. They even tell you straight in your face, "I hate reading."
How did it come to this? Why does your child has no interest in learning to read? Basically, it comes down to one thing: the love for reading was never ignited or have been extinguished. Here are the reasons why your child has no interest in learning to read.
8 Reasons Why Has No Interesting In Learning To Read:
1. Reading sessions are more like drilling sessions. Don't quiz and test children when reading. It's ok to point things out and ask questions to promote thinking but make sure it stays FUN. Don't turn it into a pressurized teaching session. Yes, you hope that they learn something from the reading but don't make that your main objective. Read to enjoy the story. Learning usually takes place when the teaching is not so obvious.
2. Television, video and computer games takes center stage when it comes to relaxation and entertainment. These strongly distracts children from reading. There needs to be a limit to these activities if you want to convince them that books can be entertaining too.
3. Reading books that are too difficult for their reading level. It is very discouraging for children to open a book and not know how to read many of the words. Where is the joy when you struggle to get through a page? Know your child's reading ability and get books appropriate to their level.
4. Reading sessions turn into screaming and put down sessions. Parents need to hold realistic expectations of their children. Control frustrations when children don't excel as fast as you wish they would. Watch your tongue and avoid derogatory remarks such as "Can't you remember that word, we just read it," or "I've told you many times already. What's wrong with you?"
5. Reading books that are of no interest to them. How do children regard these books? BORING! To a young boy, reading a book on dinosaurs may be more captivating than reading a book about Dick and Jane. Draw your teenagers into reading with books that they can relate too. I know when I was that age I was game for books on love, romance, and friendship. Capitalize on your child's hobbies and interests.
6. Forced reading. For older children, sometimes homework is in the form of assigned readings. Usually a report has to be handed in at the end. Although this is done under good intentions, it is easy for a child to regard reading as a chore to be done. Very likely too, the assigned reading is not of their choice and therefore, not of their liking. Reading in this situation is like dragging feet in the mud.
7. Peer pressure. This is another factor that affects older children. Kids can be cruel with their branding and teasing. The term "nerds" and "geeks" are usually thrown at those that indulge in books. Your child may very well choose to shun books just to fit in and be one of the "cool kids."
8. Limiting what children read. Imagine if you loved sci-fi books but was told you could only read classics. What a damper that would be for you right? Be open to what your child wants to read. You may think your child has moved passed picture books but he wants it anyway. Let him. Or you may think reading comic books have less educational value then reading well known novels. Remember, it's a book in their hands nonetheless. So, whether it be fiction, non-fiction, picture books, comic books, magazines etc… be supportive.
You want to get your child learning to read, you have to first show that it is fun and enjoyable. Don't push too hard to get your child to learning to read children's books. Only when there is love for reading can the learning begin.
Books For Children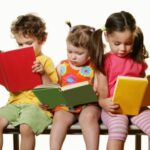 Books for children should be chosen very carefully before buying. Sometimes kids will just based decision on the attractiveness of kids book, which is wrong. As a parent, you should help your child to make a wise a decision when choosing. The most restrictive definition of books for children are those which should be probed by children, such as teachers and parents or even reviewers and publishers.
Children often do not like to be told what book to read, but it is certainly not advisable to always let the children pick their books on their own. Books for children often come with an age range and genres, but it is important to remember that parents know their child, therefore are the best judge.
Different Books For Children According To Age
There are different types of books according to the age of the. These are called baby's books, toddler's books and preschooler's books. Baby's books are for 0 – 2 years of age. Since children of this age cannot able to read yet, these books are more of large images with bright colors. Toddler's books are for 2 – 3 year old children. These books contain more images and lesser text. This is actually the perfect age to teach kids to start reading. Another one is known as the preschooler's books. Children of this age are can able to read on their own. There are still a little number of images, but more of text to read.
Different Books For Children According To Genres
There are different genres of books which is chose by the children. Genres can be determined by different techniques, tones, contents and by length. There are so many types of children books in the market. They are pictures books, board books, concept books, pattern books, and wordless books. The choosing of books for children is totally dependent on the children.
There may so many genres of books for children. It can be based traditional writings. Traditional writings are off many types. Genres can have different sub genres. Books for children can be related to myths, fables, ballads, folk music, legends, and fairy tales. It can also be related to fiction, fantasy, realistic fiction, school story, non fiction and biography related.
In order for a child to have interest in reading, it is necessary to find books for children with a topic that interests him or her. Children will most likely enjoy the stories they can relate to. Also, books with chapters or short stories will appeal more to children as they will give them short breaks throughout the reading. Favor books with small chapters or short stories. If the child complains that the book is too hard, encourage him by reading some of the pages with him. You can alternate and have him read a page and you read the next one.
Kids Story Books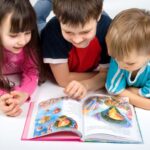 Kids story books are a wonderful tool to educate children at their very young age. As a parent, you want your children to engage with activities that will encourage them to study and learn new things. Something that is fun and entertaining yet having significant benefits to children.
Kids story books contains with activities that help build good character, improve reading and communication skills, build self-esteem, enhance knowledge base, develop natural talent, expand vocabulary, and stimulate creativity.
Children love kids story books in their own language and with teacher guidance, as well as their parents,  they can use the reading, picture interpretation and creative skills they already use in their first language along with their cross-curricular knowledge and have a very positive learning experience.
Benefits of Kids Story Books
There are a plenty of reasons why you should use kids story books for children. Children love stories and are they are very curious to learn about the new things in life and if grown-ups pave the path of learning more smoothly by using attractive stories, the stories which are not against human clean nature but convey a moral or real good experience of the past, colored by fascinating photos and pictures, can effect children to learn faster.
Two of the obvious benefits of kids story books are the ability to improve children's reading and listening skills. Story books for kids also give you an opportunity to make your children think critically. Once they are familiar with a yarn, they will not mind talking about it. You may pose several questions about what they have read to make them think.
By exposing children to real life situations through kids story books, we can pass on messages about how they should behave in certain situations when they grow up. For instance, you may use a kids story book about a bully to show them how they should respond in a situation when they are bullied. If you can make the children identify with the characters in the story in the book, the chances of your influencing their minds will be higher.
When children learn to read, they want to read as many things that they get, as it is something that they have recently discovered. It is best to give them something that suits their requirements something like kids story books. These books would make studies fun for them, and they can enjoy their classes more when they get that math and science are actually fun. This would even develop their interest in studies and they will obtain good grades in school and later in college.